The following is a list with all the places I have been to during the last 6 years which includes destinations I have travelled for holidays and business. Some of the destinations have a link to the relevant article regarding the specific travel, just click on the city and you'll read my travel experience.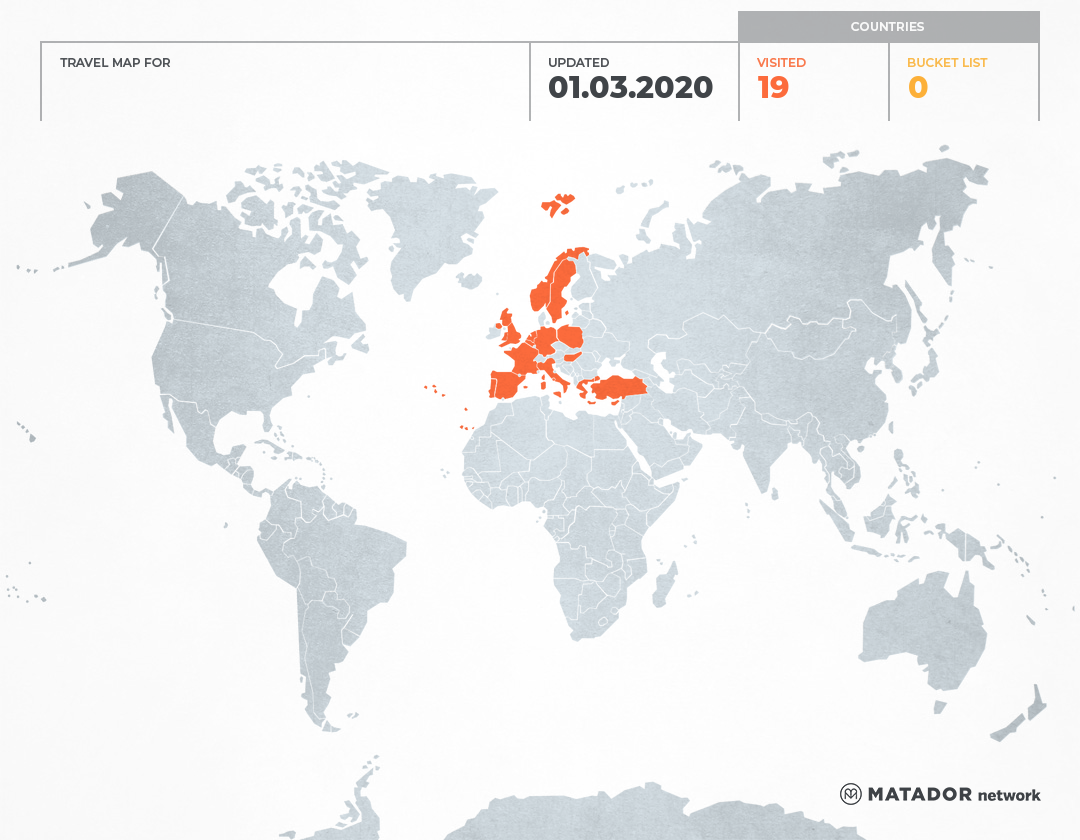 Dora has been to: Belgium, Cyprus, France, Germany, Greece, Hungary, Italy, Netherlands, Norway, Poland, Portugal, Spain, Sweden, Turkey, United Kingdom, Vatican.
Get your own travel map from Matador Network.
| Year | Month | City | Country |
| --- | --- | --- | --- |
| 2016 | March | Ghent | Belgium |
| 2016 | March | Brussels | Belgium |
| 2016 | February | Athens | Greece |
| 2016 | January | Bristol | UK |
| 2015 | December | London | UK |
| 2015 | September | Seville | Spain |
| 2015 | September | London | UK |
| 2015 | September | Bristol | UK |
| 2015 | June | Como | Italy |
| 2015 | June | Verona | Italy |
| 2015 | June | Murano – Burano | Italy |
| 2015 | June | Venice | Italy |
| 2015 | June | Hannover | Germany |
| 2015 | May | Chania | Crete |
| 2015 | May | Berlin | Germany |
| 2015 | March | Athens | Greece |
| 2015 | March | Brussels | Belgium |
| 2015 | February | Milan | Italy |
| 2015 | January | Brussels | Belgium |
| | | | |
| 2014 | December | London | UK |
| 2014 | October | Palermo | Italy |
| 2014 | August | Athens | Greece |
| 2014 | August | Spetses | Greece |
| 2014 | August | Hydra | Greece |
| 2014 | August | Poros | Greece |
| 2014 | June | Porto | Portugal |
| 2014 | June | Aveiro | Portugal |
| 2014 | February | Stockholm | Sweden |
| 2014 | February | Bergen | Norway |
| 2014 | February | Oslo | Norway |
| 2014 | January | Brussels | Belgium |
| 2014 | January | Brugges | Belgium |
| 2014 | January | Athens | Greece |
| | | | |
| 2013 | October | Pisa | Italy |
| 2013 | October | Bergamo | Italy |
| 2013 | September | Brussels | Belgium |
| 2013 | August | Milos | Greece |
| 2013 | June | Athens | Greece |
| 2013 | May | Chania | Crete |
| 2013 | April | Budapest | Hungary |
| 2013 | April | Madrid | Spain |
| | | | |
| 2012 | December | Athens | Greece |
| 2012 | September | Thessaloniki | Greece |
| 2012 | June | Paris | France |
| 2012 | June | Rennes | France |
| 2012 | June | Perros-Guirec | France |
| | | | |
| 2011 | December | Newcastle | UK |
| 2011 | October | Krakow | Poland |
| 2011 | June | London | UK |
| 2011 | May | Berlin | Germany |
| 2011 | May | Franfurt Oder | Germany |
| 2011 | May | Slubice | Poland |
| 2011 | April | Brussels | Belgium |
| 2011 | January | Lisbon | Portugal |
| | | | |
| 2010 | November | Athens | Greece |
| 2010 | October | Newcastle | UK |
| 2010 | October | Paris | France |
| 2010 | October | Brussels | Belgium |
| 2010 | June | Instanbul | Turkey |
| 2010 | January | Madrid | Spain |
| | | | |
| 2009 | December | Newcastle | UK |
| 2009 | December | London | UK |
| 2009 | July | Glasgow | UK |
| 2009 | July | Paris | France |
| 2009 | June | Liverpool | UK |
| 2009 | June | London | UK |
| 2009 | June | Brighton | UK |
| 2009 | March | Amsterdam | Holland |
| 2009 | March | Rotterdam | Holland |